Amenities
GREENWAY
As many of you know, one of the perks to living in Merry Oaks is our beautiful greenway. The greenway is a great way to get exercise, walk your dog, enjoy wide open space and meet your neighbors. Paved paths meander through established native trees, open fields of grass and across a bridge over Briar Creek, connecting Merry Oaks with the nearby Plaza Midwood neighborhood.  Neighbors of Merry Oaks take pride in having the greenway so close and have made improvements not only to the greenway but also the parks and recreation trails through the woods and around the soccer fields at Merry Oaks elementary school. While on these paths, you will see evidence of hard work and neighbors coming together to improve our community.
In early spring you will see many daffodils and hyacinths in bloom. During summer, an abundance of perennials and annuals are planted in raised beds and around the circle at the stream as well as other places along the trails. Fall brings beautiful color from native trees, and then winter jasmine is not far behind in bloom.
We invite and encourage everyone to walk, run or even skate through the neighborhood and enjoy these areas. Please feel free to lend a home to any plants that will contribute to the beauty for all to enjoy. The children at Merry Oaks Elementary School use the trail near the school as an open classroom to learn about nature and the environment.
Thank you to all those who have given their time and effort to improve Merry Oaks.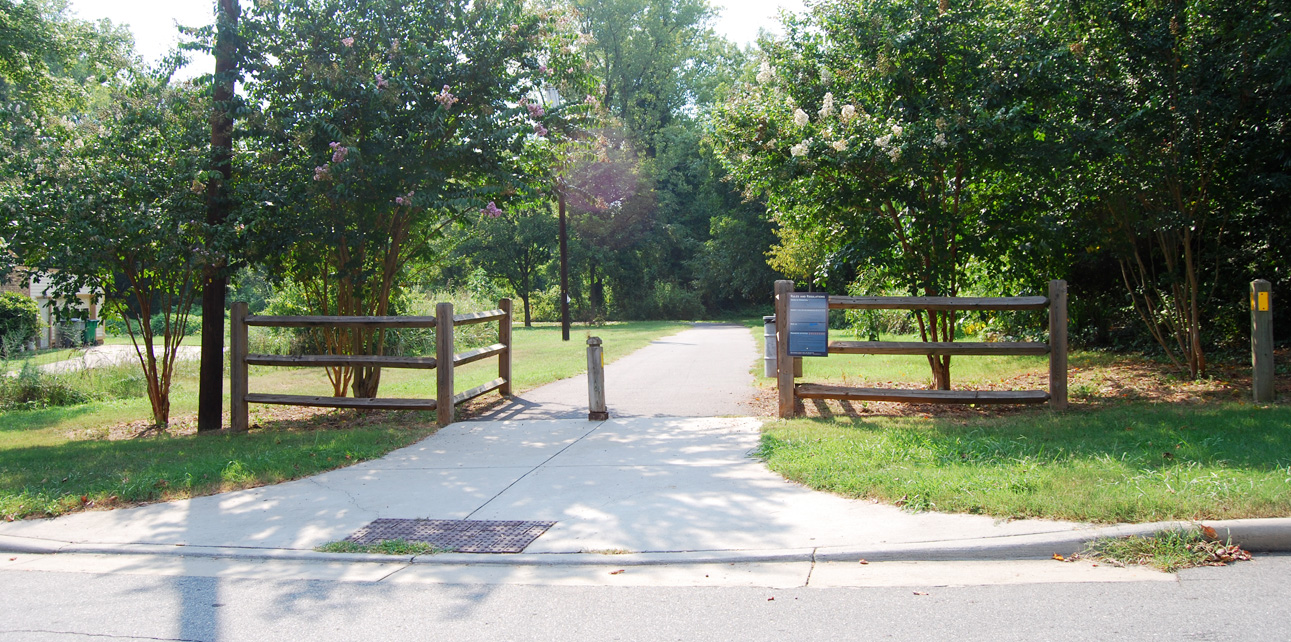 PARK
In 2003 the old elementary school was torn down and a new school built, one of several schools designated for joint use with the Mecklenburg County Park and Recreation Department. The County Park and Recreation Department purchased additional property for an access trail from Merry Oaks Road to the school. Trail access is available from the 1800 block of Merry Oaks Road and the trail winds through the woods and behind the school is paved and has markers so you can measure how fast you can walk/run a mile. To measure, begin at the marker "Start" set in the concrete near the woods and begin by walking the east trail through the woods toward the small creek. Three times around the loop and you will have walked or run .93 of a mile. There are no steep grades, making the trails accessible for all ages, and there is a drinkable water faucet for people and pets.  The trails, basketball courts and general purpose field are available after school and on weekends. Pets are welcome, but must be leashed and please remember to pick up after your pet!